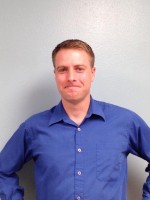 On February 11, 1983, I was born in Van Nuys, CA, to Peter and Sharon Poppleton.  There I spent my first 19 years growing up with my two brothers, John-Paul and Robert.  I received a very well rounded spirituality while immersed in a life in community with other strong Catholic families.  My spiritual formation has been influenced from birth by Byzantine, Franciscan, Benedictine, and Charismatic spiritualties while delving into the life of the early church.
My musical background has been more collegiate than professional until now, as this is my first time as Director of Music and Liturgy.  I majored in Classical Guitar Performance at Cal State Northridge.  My college studies included a semester in Florence, Italy, under the instruction of some of the best guitarists in the world, including Elliot Fisk.
I have been a worship leader in various capacities for 16 years, and have spent many years in youth ministry as well.  My best friend (the preacher) and I (worship leader) started a youth group in Los Angeles in 2001, and this youth group flourished for many years.  Though never officially a Youth Minister for a Parish, I also volunteered at a church in Simi Valley, St. Peter Clavier, and helped lead a very vibrant program as a worship leader for the youth.  Through St. Peter Clavier, I received a great honor in 2004 as "Youth Minister of the Year" for the Archdiocese of Los Angeles.
After college, I spent many years in handyman/carpentry work, while practicing and composing at night and on my days off.  I am deeply honored by Fr. Robert, the staff, and the community here at St. James for giving me the opportunity to lead this truly unique, warm, and welcoming community in worship and to coordinate liturgy.  I love serving Christ and his people, and will always give my best.  All glory be to the Father, the Son, and the Holy Spirit, and thank you St. James Roman Catholic Parish!