FESTIVAL – APRIL 17, 18 &19
Beginning Tuesday, April 14th, the Midway West Carnival rides began arriving!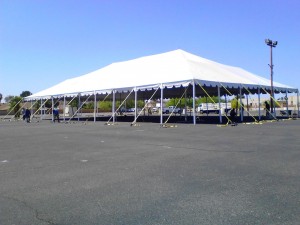 And the Entertainment & Food tents were put up on Wednesday & Thursday!
More pictures to come!
MINISTRY NETWORK MEETING
St James First Ministry Network Meeting was held January 6th in the Parish Hall.  The meeting was headed by Deacon Roy and Teri Drapeau, Stewardship Council Co-Chairs.  More than 50 parishioners attended with representation from Finance Council, Pastoral Council, Parish Staff and all ministries of the parish.  Emphasis is being put on strengthening the ministries which will in turn strengthen the Parish of St James.  Volunteers are vital to the Parish!
SUNDAY DONUTS
Please join fellow parishioners for coffee and donuts after the 7:30, 9:00 and 11:00 Masses.  Beginning in February, the donuts will again be moved to the courtyard in a fun bistro setting.  All parishioners, both new and old, are invited to help build the community of St James and each week learn about one of St James ministries, their missions and their works in the Parish.