St James Roman Catholic Parish is a warm and welcoming,
Christ centered community, dedicated to the service of all.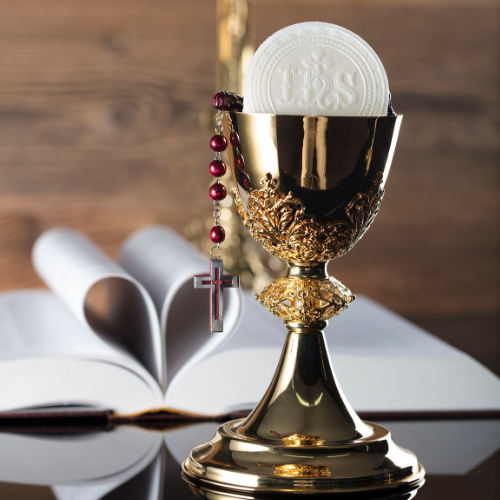 Weekend Mass UPDATES
We welcome parishioners to attend Mass at the following times:
Saturday @ 4 pm
Sunday @ 7:30AM, 8AM (Parish Hall), 9AM, 11AM (Spanish) and 11:15AM (Parish Hall).
NOTE: We are observing physical distancing guidelines and will limit the amount of people in the church. The Parish Hall will serve as an alternative location for Mass for overflow.  The general dispensation from Sunday Mass obligation continues. Those who are vulnerable or feel safer staying home are encouraged to watch Mass from the comfort of their homes. 

Mass Live Stream Options
Watch Mass from the comfort of your home live on St. James' Facebook this weekend
Saturday November 28 @ 4pm and Sunday November 29 @ 9AM (Church) 11AM (Spanish) 
If you viewed Mass from home, you are invited to join us for Holy Communion at the following times:
Saturday: 5:00PM - 5:30PM
Sunday: 10:00AM - 10:30AM & 12:00PM - 12:30PM
Other opportunities are available through the Diocese of Phoenix:
Spirit of Christmas Bazaar
Join us on Saturday Dec. 5th from 9:00 AM - 6:00 PM & Sunday Dec. 6th, 
8:00 AM - 4:00 PM for the annual Christmas Bazaar to purchase new and gently used Christmas items from small ornaments to 7 foot artificial trees, fresh baked goods, breakfast burritos, tamales and much more! CDC guidelines will be followed.
St James Gift Card Program
The Gift Card program helps earn money for St James! You choose the cards you want to purchase, pay face value of the card, and St. James will receive a percentage of the sale.
Stop by the Parish Office to place your orders by December 13th.
With a little bit of work on your part and no extra money out of pocket, this program raises money for St James!
St James Gift Card Program