St James Roman Catholic Parish is a warm and welcoming,
Christ centered community, dedicated to the service of all.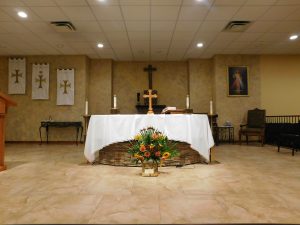 Mass Times
Watch Mass live on St. James' Facebook this weekend
Saturday April 4 @ 4pm
Sunday April 5 @ 8 a.m and 11 a.m. (Spanish)
Other opportunities are available through the Diocese of Phoenix:
As we approach Holy Week and prepare for Palm Sunday this weekend, we will recall the Passion of Christ, His holy death which washed away our sins and opened for us the way of Salvation. To help you enter fully into the mystery of Christ's death and resurrection, the Diocese of Phoenix Office of Worship offers you this resource: Download the Holy Week Resource Guide as a beautiful Flipbook here, or download the PDF here.
This digital resource is very thorough, including readings, prayers, and recommendations for commemorating each day; links to beautiful pieces of art and music; and activities for Catholics of all ages.
A medida que nos acercamos a la Semana Santa y nos preparamos para el Domingo de Ramos este fin de semana, recordaremos la Pasión de Cristo, Su santa muerte que lavó nuestros pecados y nos abrió el camino de la Salvación. Para ayudarlo a entrar plenamente en el misterio de la muerte y resurrección de Cristo, la Oficina de Culto de la Diócesis de Phoenix le ofrece esta recursos:
Descargue la Guía de recursos de Semana Santa como un hermoso Flipbook aquí
Este recurso digital es muy completo e incluye lecturas, oraciones y recomendaciones para conmemorar cada día; enlaces a bellas piezas de arte y música; y actividades para católicos de todas las edades.
St James Gift Card Program
The Gift Card program helps earn money for St James! You choose the cards you want to purchase, pay face value of the card, and St. James will receive a percentage of the sale.
Stop by the Parish Office to place your orders by Sunday, April 19th.
With a little bit of work on your part and no extra money out of pocket, this program raises money for St James!
St James Gift Card Program